Your Website Determines the Credibility of Your Business
We have the perfect Template for your Website Development!
A great website can be a game-changer for startups and small businesses: it's how you can reach the right audience, with the right message, without breaking the bank.
This is what you need to do:
Get the right team in place, and more importantly, get the right tool that will help your team get more done, faster.

Your team is going to be distributed: unless you are part of a big company, you will have to rely upon contractors to do different parts of the work, and a bunch of these folks are probably going to be working remotely. So make sure the tool you use is designed for distributed teams!

You need a great process: a smooth workflow that lets folks on the team get their tasks done and easily hand off to the coworkers, all while communicating and sharing files and designs without getting bogged down in the admin details.
And this is what success will bring you:
Clear differentiation from your competitors, starting right from the moment a potential customer looks you up and lands on your website.

An image of competence, innovation, and great design when they land on a useful, informative, and well-designed website that highlights your company's offerings and answers all the questions that a potential customer might have in mind.

Lower maintenance costs: if you build your website well in the first place, with a good architecture, a clean and organized code base, and adherence to best practices, it will be easy for you to make changes in the future, so you will always be putting your best face forward on the Web.
A successful website development process can be a game-changer for startups and small businesses, allowing them to reach the right audience with the right message without breaking the bank.

>
Making a great Website isn't easy
There's a bunch of stuff that you need to get right, and all of it matters:

(Feeling scared? Don't be: Kerika has a complete template that will guide you through every step of the process.)

>
And your team needs something better than email
Emails quickly become a time-sucking vortex that leaves you feeling overwhelmed and unproductive.
When too many people get involved in the thread, you get sprayed with "Reply All" messages that clutter your inbox and make it difficult to keep track of important information.
Things get worse when you share mockups of your design and try to get feedback: what started off as a simple PageDesign.png quickly spawns PageDesign1 v2, PageDesign v3, PageDesign (John's comments), and so on… Essential details get buried in the flood of irrelevant messages, and it becomes all too easy for everyone to miss deadlines.

The challenge of managing tasks, keeping track of designs, and collaborating has become more difficult now that people are working remotely: when teammates are working in different locations, and at different times, making sure everyone is always on the same page is both harder and more vital.

>
Kerika's free Template has got you covered
Our template shows how you can manage each step of the website development process using Kerika's excellent project management system.
This template is free; click on the image below to see it live!
Click to view this template. >
Kerika makes it easy to manage your Website team
Here's an example of a project team:
Jon set up the Kerika account for his company, which is why he shows up as the Board Owner, and he also set up this board, which is why he is also listed as a Board Admin.

(Kerika can be used for all kinds of projects, so Jon has a bunch of other boards in his account. Each project is handled by a different board, and each board has its own team.)

Jon has added several others as Team Members on this board: Team Members can make changes to the board and help get stuff done, and they don't have to be people working inside the company.

All Jon needs to add someone to a Kerika team is that person's email, and all that person needs to use Kerika is a browser, of any kind, on any device. There's no software to install, not even a plugin.

Jon's project also includes a stakeholder, Rosh, who needs to know how things are going. Jon, being the savvy organizer he is, has set Rosh up as a Visitor, which is the perfect option for someone who won't be making any changes.

And the best part? It won't cost Rosh or Jon a dime! So he can sit back, relax, and view all the activities without worrying about a thing.

>
Check Out The Workflow
Kerika comes with a great workflow to make sure you succeed with your website development efforts. Kerika's clean design makes it easy to understand the workflow: when you look at a Kerika board, the individual tasks appear like cards on a virtual board, and each column in the board represents a phase necessary for a successful website development.
Click to see this template's workflow

With Kerika, you're in the driver's seat, and you get to work the way you like. Which means, you can customize every part of this workflow to fit your way of building the website! And that's a rare find in the world of task management tools!

>
Tasks, Content, Communications, Deliverables
Kerika handles it all for you
You don't need separate tools for project management, content management, collaboration, and communication: Kerika is a complete solution that simplifies your website development process and boosts productivity!
With everything you need in one beautifully designed and affordable package, you and your team won't need any extra training to get started. Just fire up your browser, and you're ready to go in seconds!
Let's take a closer look at the cards in this template to see how Kerika helps website developers around the world:
When you open this card, you can see that it is designed to keep track of all the wireframe design tasks. You can also check its current status, its due date, to whom it is assigned, and all the details related to designing the wireframe! All of this is located in the Details tab, but wait, there's more!
The Checklist tab allows you to create, assign, and track all the smaller tasks related to this:
Each item on the checklist can be assigned and scheduled; Kerika makes sure everything gets rolled up to the card so you don't miss anything.
But that's not all, Kerika also manages all the content needed for each task: files that you can drag-and-drop from your laptop and links to interesting stuff you find on the Internet.
You can even create new Google Docs from inside Kerika!
The possibilities are endless with Kerika! You can create countless boards and organize them to your heart's content. And get this, you can even set up different teams for each board!
With Kerika's Highlights feature, you can easily cut through the clutter and focus on what's important. Even if you're dealing with plenty of tasks, Kerika's got you covered.
Check out this example where Kerika's 'Highlights' feature helps you shine a light on which task is important to you: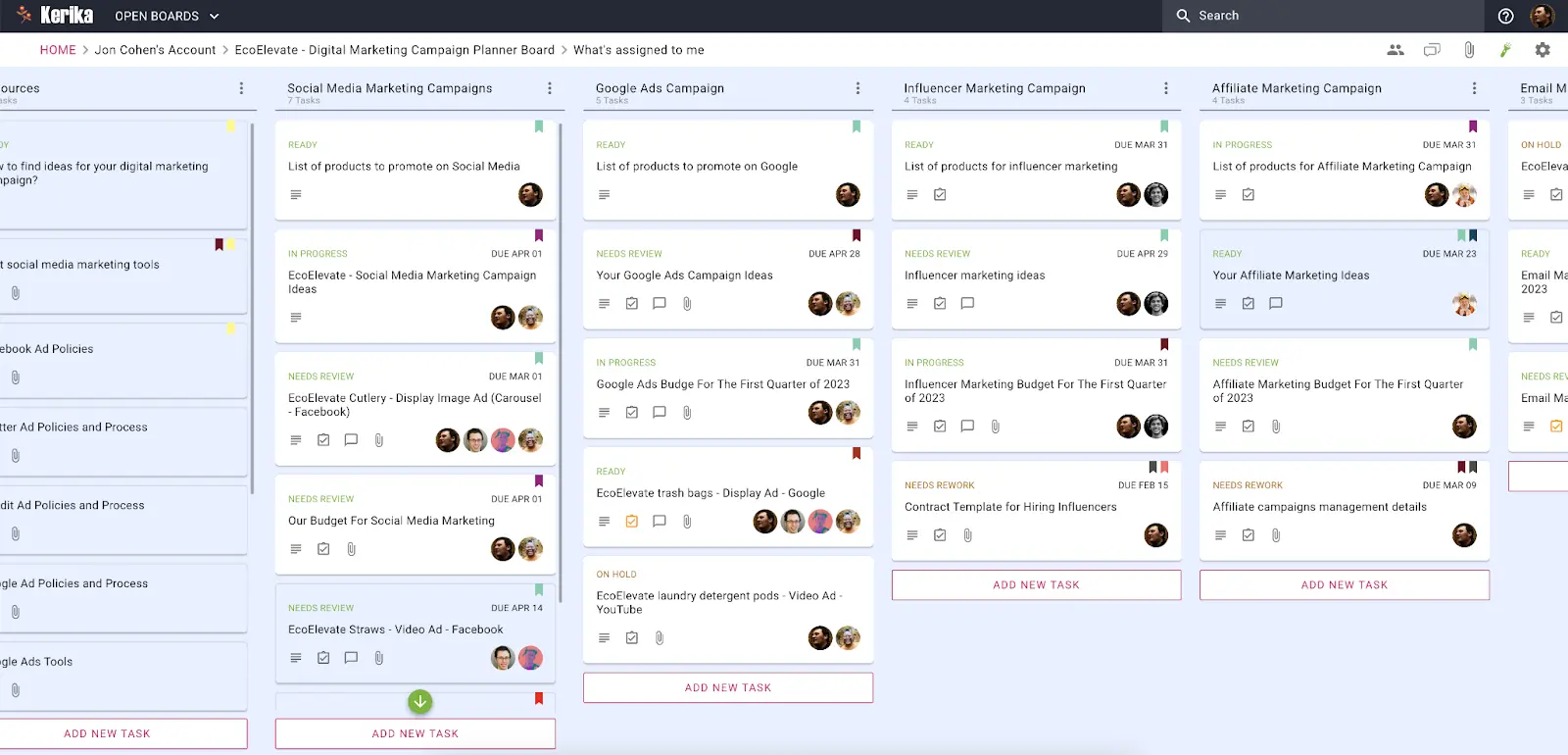 Kerika isn't just limited to website development – it's your all-in-one solution for anything your team needs to tackle. And the best part? You don't need to be a tech wiz to figure it out! Kerika is incredibly user-friendly, with no need for extensive training. So whether you're working on a project for your department or collaborating with your team on a top-secret mission, Kerika has got your back!

>
Kerika and Google Apps
If you are using Google Apps (GMail, Google Docs...) you will be delighted to find that Kerika comes with Google Apps support right out of the box! Simply use your Google ID, and you're good to go! There's no need for any plug-ins or add-ons, and there's no extra charge.
Any files you upload are stored in your own Google Drive without any additional set up. And that's going to make your IT folks a whole lot happier than having your files disappear into the cloud.
Sharing files is super easy in Kerika. When you create a new file, all the members of the board automatically get write-access to it. Visitors also get read-only access to your files. You can even create new Google documents from inside a Kerika task or board.
If you upload a new version of a file, or rename something from inside Kerika, that shows up automatically in your Google Drive as well. If a Google file is updated, that shows up in your Kerika boards as well.

Everything you do in your Google drive gets updated in Kerika in real time! So there's no need to manually manage any documents.

>