For Product Management, Design, and Engineering Teams
Before you launch a minimal viable product, take 5 days to validate your idea before making any expensive commitments.

Answer critical business questions through design, prototyping and testing ideas with customers.

(The Google Design Sprint was created by Jake Knapp, Braden Kowitz, Michael Margolis, John Zeratasky, Daniel Burka when they were at Google Ventures.)

>
Get from idea to validated solution in just 5 days
With a proven step-by-step checklist
>
First, Get Ready
We have mapped out all the steps you need to do to get ready for your Sprint.
Here are just some of them:
Choose a Big Challenge
Get a Decider
Recruit your Sprint Team
Schedule Extra Experts
Pick a Facilitator
There are a total of 13 essential steps you need to do to run a really great Design Sprint, and we have details and tips and how to do all of them.
>
Monday: Map It Out
Monday is packed with 12 action items and Kerika's template includes details and checklists on how to make it happen.
Here are just some of them:
Add your team to this board: after determining who needs to be on your Sprint team, add them to your Kerika board for easy collaboration.
Make introductions: break the ice with introductions of everyone on your Sprint team.
Explain the Sprint Process: use the free Google Ventures Kickoff slides provided with your board to make it easy.
Never miss a beat: real-time notifications so you and your team will see any last-minute changes immediately.
There are other things you need to do:
Set a long-term goal
List Sprint questions
Make a Map
Pick a Target
>
Tuesday: Sketch It Out
Use this opportunity to explore all ideas and solutions before taking action. You can rely upon Kerika to keep all your files together as you brainstorm, create, edit, and finalize documents and content.
Tuesday includes 7 action items to make sure you and your team are running well through the Sprint.
Lightning Demos

Divide or Swarm

4-Step Sketch Process

Notes

Ideas

Crazy 8s

Solution Sketch
>
Wednesday: Decide on an Idea
On Wednesday, debate the solutions and ideas that your team discovered on Tuesday. Collaborate with your team to decide and move forward.
Wednesday includes 18 action items, so it's going to be a busy day. Your tasks will include:
Setting Expectations: You can't prototype and test all  solutions – you need one solid plan. Get your team on the same page.
Making a Sticky Decision: Prepare to explore all possibilities with your team and then decide on one.
Creating an Art Museum: Tape the solution sketches to the wall in one long row to view your options.
Additional actions items include:
Heat Map
Speed Critique
Straw Poll
Supervote
>
Thursday: Build a Prototype
On Thursday, you will create and build a prototype that you can test with your audience. And although this is just a prototype it should have enough quality to evoke honest reactions from customers.
Friday includes 12 action items, so be prepared for another busy day.
Don't forget that:
You can prototype anything.

Prototypes are disposable.

The prototype must appear real.
Here's an example of one of the tasks for Thursday: as you can see, Kerika provides solid details on every task, so you are successful even if this is your first Design Sprint!
>
Friday: Test the Prototype
Time to cross the finish line! Testing your product with real users will give you all the insight you need for successful product development. You won't waste time or resources.
Friday includes 15 action items to make sure you and your team are productive on the big day! These are just a few:
Setting Expectations
Understanding the Interview Process
Makeshift Research Lab
Set up Hardware for Interviewing
Set up a video stream
Interview target users
>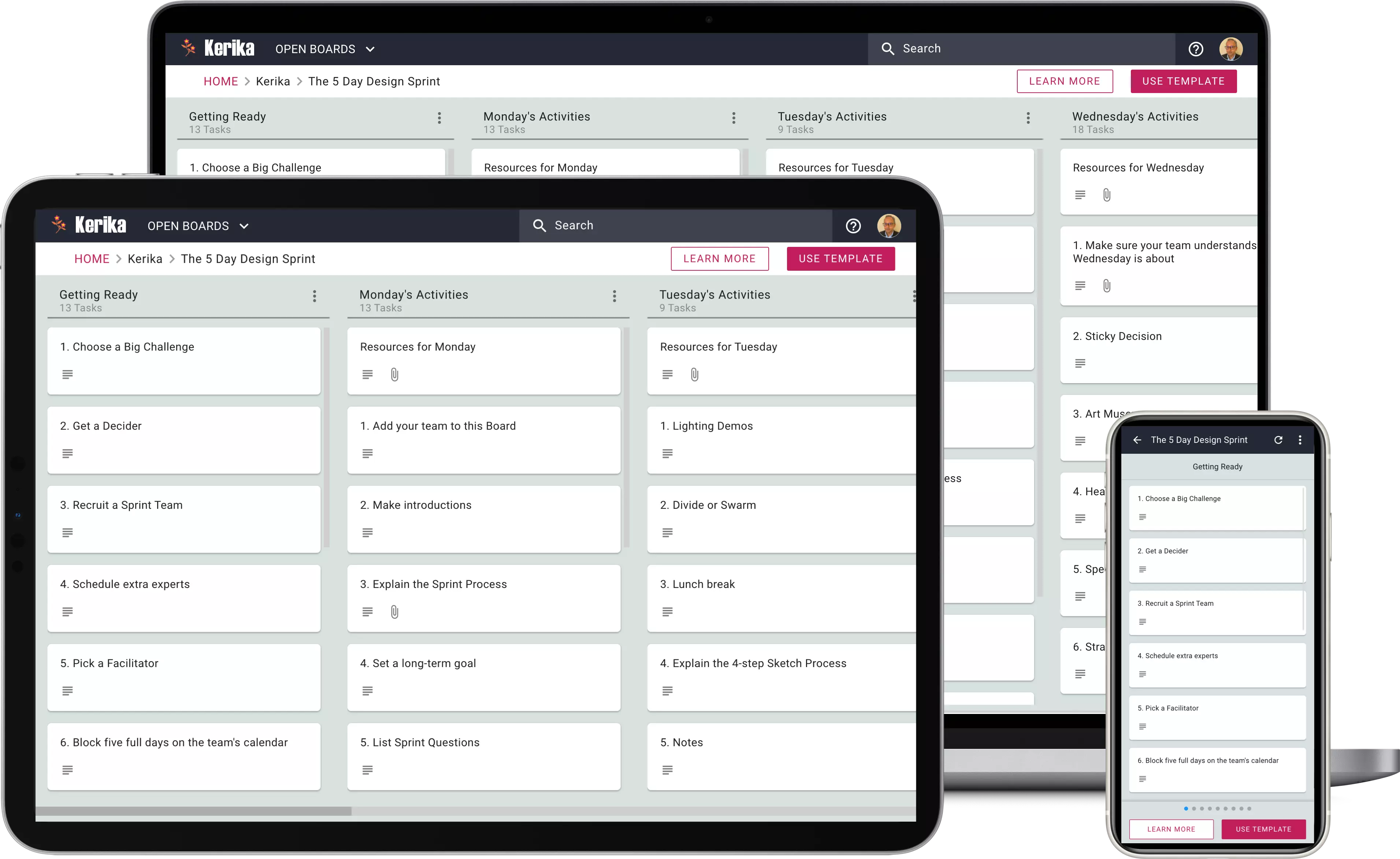 Ready to jump-start your Design Sprint?
You can set up your board in seconds
1.Sign up for Kerika with your email address or Google ID.

2.In just seconds Kerika can set up a new board for you that's a complete copy of this template.

3.Next, invite your team members to join this board, to get more done.

>
Kerika is <i>exactly<i> what you are have been looking for to run your Design Sprint
Everything you need, in one place
Upload Files from your desktop: drag and drop any kind of file onto a Kerika task and Kerika handles the rest, including keeping track of versions.
Import Content from the Web, your Intranet, or even SharePoint: attach anything to any Kerika task or board. Kerika manages everything for you.
Chat with your team: Kerika integrates your chat and email with your tasks and content management. Communicate with your team instantly.
Sync with your Apple, Microsoft, or Google Calendar: never miss a due date again! Your Calendar will automatically stay updated even as your due dates change.
>
Kerika even has Whiteboards
For when you need to get creative
Whiteboards make it easy to visualize your ideas and plans.
You can explore concepts within concepts and even incorporate your files, videos, images, and Web content along with your flowcharts.
You won't find this anywhere else: Kerika invented and patented this!
>